Lacedelli, Cima Scotoni
I've met Dries Brandsma just briefly, at a coffee bar in Cortina with a common friend, but soon after we share a rope!
I let him pick a route he wanted to do, and he came up with the 'Lacedelli' at the Cima Scotoni. At first I wasn't that psyched, because the line doesn't end at a summit (the last 100 meters the rock is considered too dangerous and loose), and I am a big fan of aesthetics. But the rest of the specs of this route attracted me a lot: 1) it's a Dolomites classic 2) it is a mix of trad and traditional (rusty) pegs 😉 3) there are some harder piches involved (around 7a) 4) It's long, around 18 pitches.
The Lacedelli route (ED, 7a, 450m) was openend in 1952 and was considered for a long time one of the most difficult routes in the Dolomites. For long an artifical thing, nowadays some people try to free climb the route. Which also was my plan of course.. 🙂
We sleep in the van at the parking next to Ristorante Capanna Alpina, a friendly restaurant and a nice place to stay for the night. Dries stays for a couple of nights at the very expensive and shitty campsite, closeby. At around 4:30AM he walks up to pick me up, while I was having breakfast outside the van, in the dark, not to wake the family up. Quickly we walk up together to the Rifugio Scotoni as it gets light. Not long after daybreak, we stand at the foot of this large wall: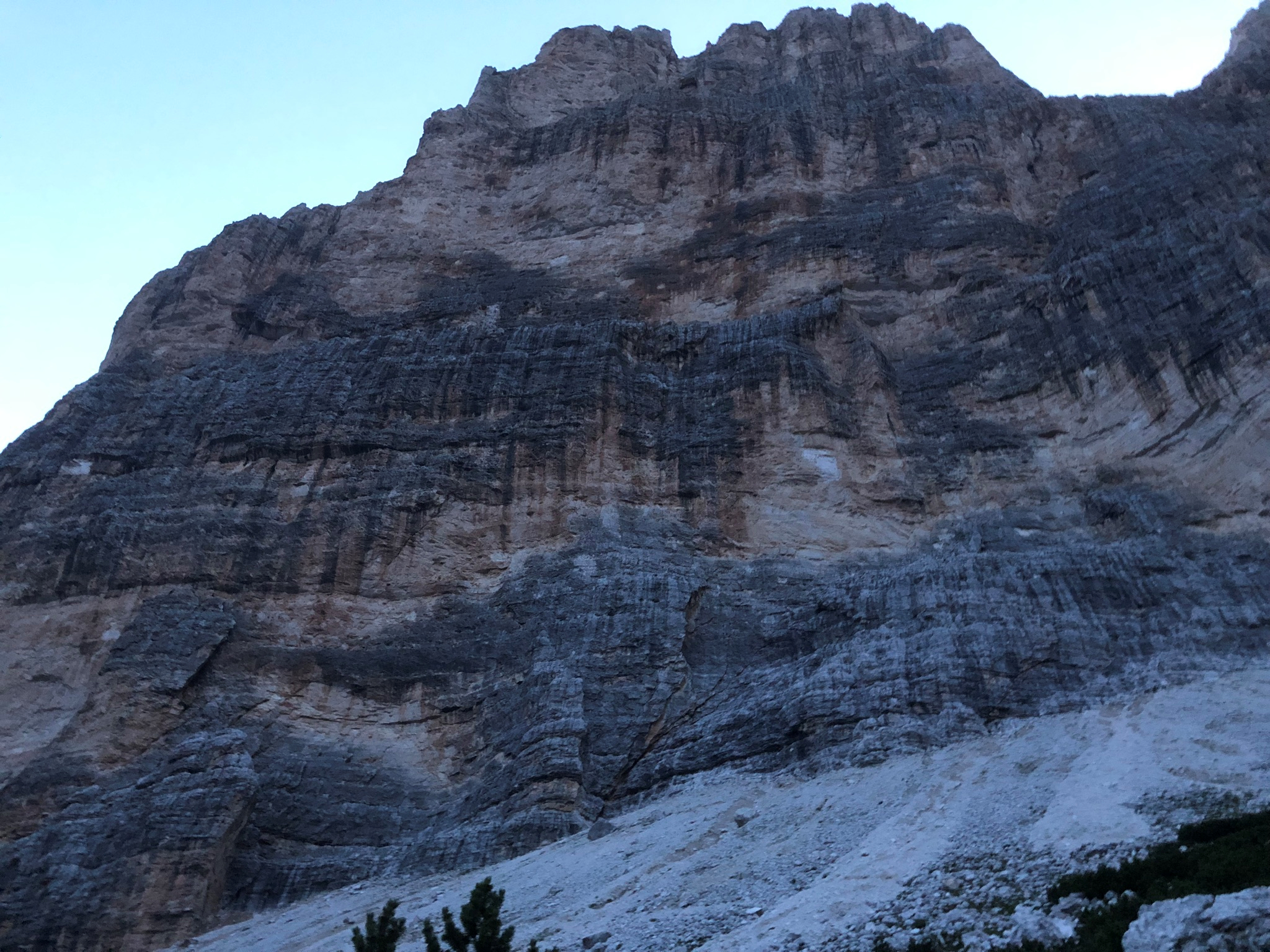 The hardest pitch was the 4th pitch as I remember it right, a 7a full of pegs. My hands were still really cold, I did not manage to free the hardest move of this pitch unfortunately. Didnt see how to do it and got pumped. Or maybe it was the sketchy pegs that I didn't trust 😉
The rest of the route went pretty well, with as highlights a pitch where we were forced to crawl and some very steep harder pitches in the route high up, with sketchy belay stations which were difficult to improve.
After topping out, the walk down was very relaxed, following a path, and at around 2 PM we were back at the parking.
Smooth day out with a nice new buddy! Thanks Dries!
Some more pictures of us: