Don Quixote – Marmolada
A little report about another climb from last summer, on a wall that I wish to return to many more times.. the legendary and very steep Marmolada south face! With it's 800 meters of height difference and 3 km's of lenght, it's one of the largest walls in the Alps! And the only remaining glacier in the Dolomites is located on the north side of it. There's an extended guidebook with all the routes on this wall, from famous free climbs like the Vinatzer/Messner, Moderne Zeiten or the insane 'Weg durch den Fish', to unknown, obscure and probably scary artifical testpieces which will not be climbed often I guess..
In my experience, the Dolomites are always a mix between ultimate pleasure and dissapointment: a few nearly perfect climbing days, but also lots of periods with unstable weather. The bad periods are characterized by sunny mornings and thundery afternoons. When climbing, dark thundery clouds can quicly overtake, because one cannot always see them coming. Something I have experienced myself a couple of times. Very scary!
During those unstable weather periods, it's always possible to climb shorter routes, but you can forget about the 'bigger objectives'.  And that's what I am in for. After so much sportclimbing I am in for real adventure. The last decade I have get the skills to navigate smartly and fast in typical Dolomite-walls and towers. Of course there is still so much to gain in terms of skills but I want to profit from what I have. The topo's and guidebooks don't always translate easily to navigation, many times you have to learn to trust your instinct – especially dealing with the typical dolomite terrain in the lower grades.
Together with Wouter, who had been climbing the whole summer already in the Alps and is a very skilled rockclimber, I made a plan. The first obvious route on this face for us would the Vinatzer/Messner. Because it's a classic (climbed quite often and many enthousiastic stories available) but also 'not too hard but hard enough' 😉 However, this route is really long (high bivy potential) and you need stable weather conditions.
Of course, this week the weather didn't cooperate.. So what we did: we opted for the best day (still rain predicted in the afternoon starting from midday) and picked out the route we expected to be most fast in -> Don Quixote!
According to planetmountain.com: 'Don Quixote is justifiably the classic line and, consequently, also the most repeated on the wall. The route climbs the characteristic rounded arête and pillar to the right of the routes Conforto – Bertoldi and Phillipp – Henger. It starts up a series of streaks, easy steps and grey slabs first leftwards than rightwards, to then continue up a series of fantastically compact limestone. After the ledge at mid-height the route becomes even more interesting, to finish up some incomparably beautiful grey slabs.'
It's about 900m, 20-23 pitches, of which the first 10 are relatively easy. Then there is a large ledge. During the second part you will encounter a few pitches which are definitely harder than the guidebook says: in my opinion about 6c/6c+ french grade. The route ends at Punta d'Ombreta (3.230m) and the descend follows the glacier towards the cable car middle station (watch out, some crevasses!)
After an early dinner we leave my family at the campsite in Malga Ciapella and walk up to the Rifugio O.Falier, where we arrive when it's almost dark. The hut is totally empty, just another couple of young Italian climbers is there. They want to go for Don Quixote too.
We understand why the rest of the hut is empty, the weather forecast says enough 😉 Our strategy is as follows: we know where the start of the route is, have prepared well, we will climb fast and bail if necessary (not too easy though, but possible). We just give it a try!
In a hut, it's always the same: people ask you what route you will do and what time you will get up. And then, they'll get up half an hour earlier as you do.. 🙂 This is the same for the Italian guys. 30mins before our alarms go off (at around 5AM) they sneak out of the communal bedroom and by the time we finished breakfast and go outside, we see their headtorches far away from the hut.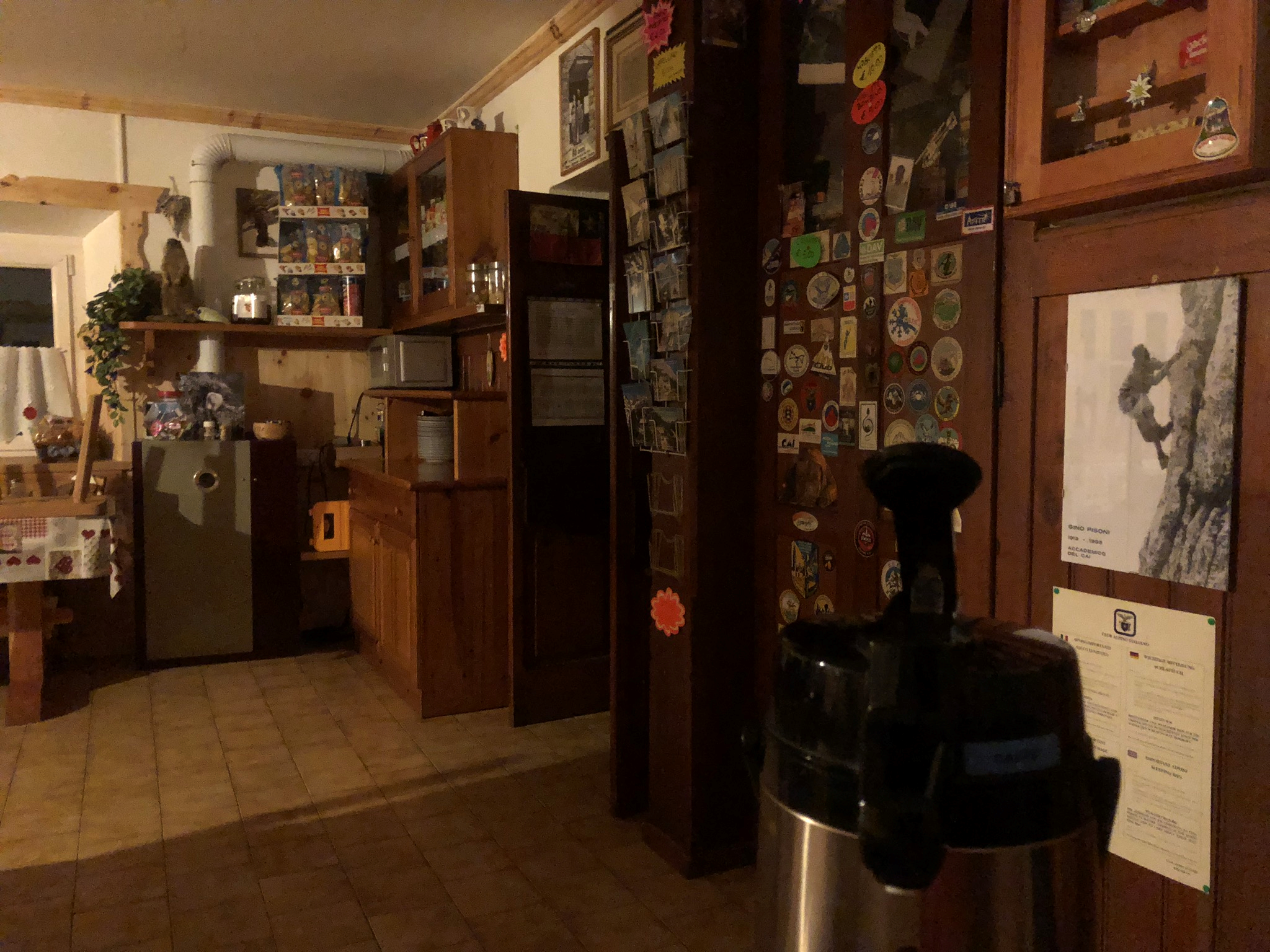 Riffugio O. Falier
We start to walk, and by the time we have to leave the path underneath the south face, and climb up the steep rocky hills towards the start of the route, we see the headtorches of the Italians coming down again. What's happening? As they arrive where we are, we understand that they don't trust the weather. But you have seen the forecast, right? 🙂 Why did you even get up to the hut then? I really don't understand this… but hey, I am pretty happy not to have them in front of us!
So now we are now the only climbers on the Marmolada. This adds to the mixture of feelings I experience standing underneath this legendary face in the darkness: I am a little bit nervous, but feel lots of energy at the same time 🙂
We are happy to know the start of the route well because of our exploration a few days earlier, and at around 6:30AM we start to climb simultaneously. I go first. The climbing is not difficult, but runout. Everytime I find a relais or pitons I am very happy that we seem to be on the right route, when comparing the topo with the wall. Every once in a while I stop and reinforce a relais to meet up with Wouter and get the gear he took out of the route. I can remember some pitches (especially a chimney and a face pitch) which were a little spicy. Runout on bad pitons. Easy to make mistakes in the routefinding in some places too.
In the meanwhile, it starts to get really cloudy, windy and it's quite cold. I try not to think about this too much and to just go on. Worst case scenario is a long and wet retreat or a bivy, but we are well equiped and Wouter is a good partner to climb with. So we move on and after around 2.5/3 hours we arrive at the big ledge in the middle of the face.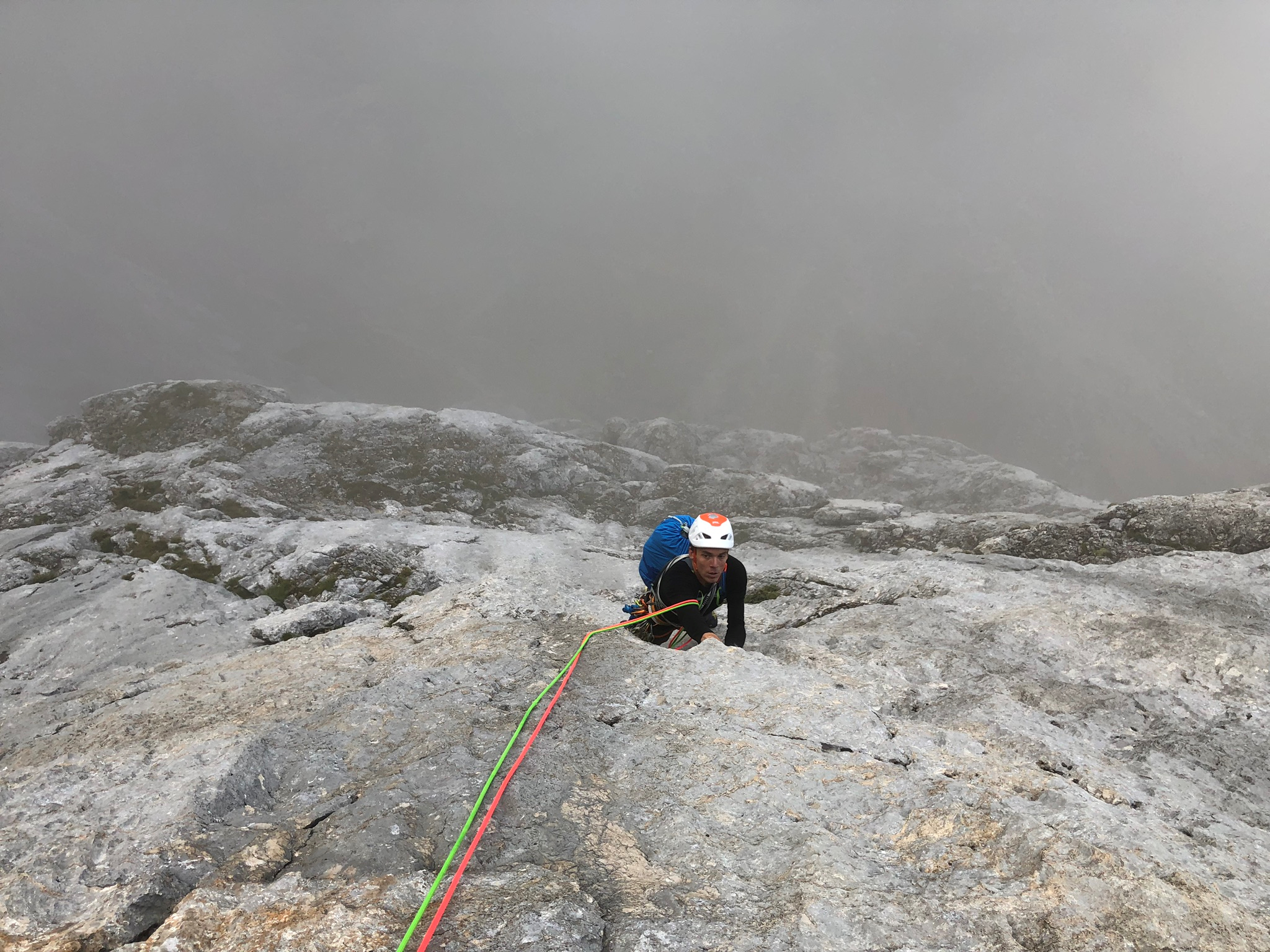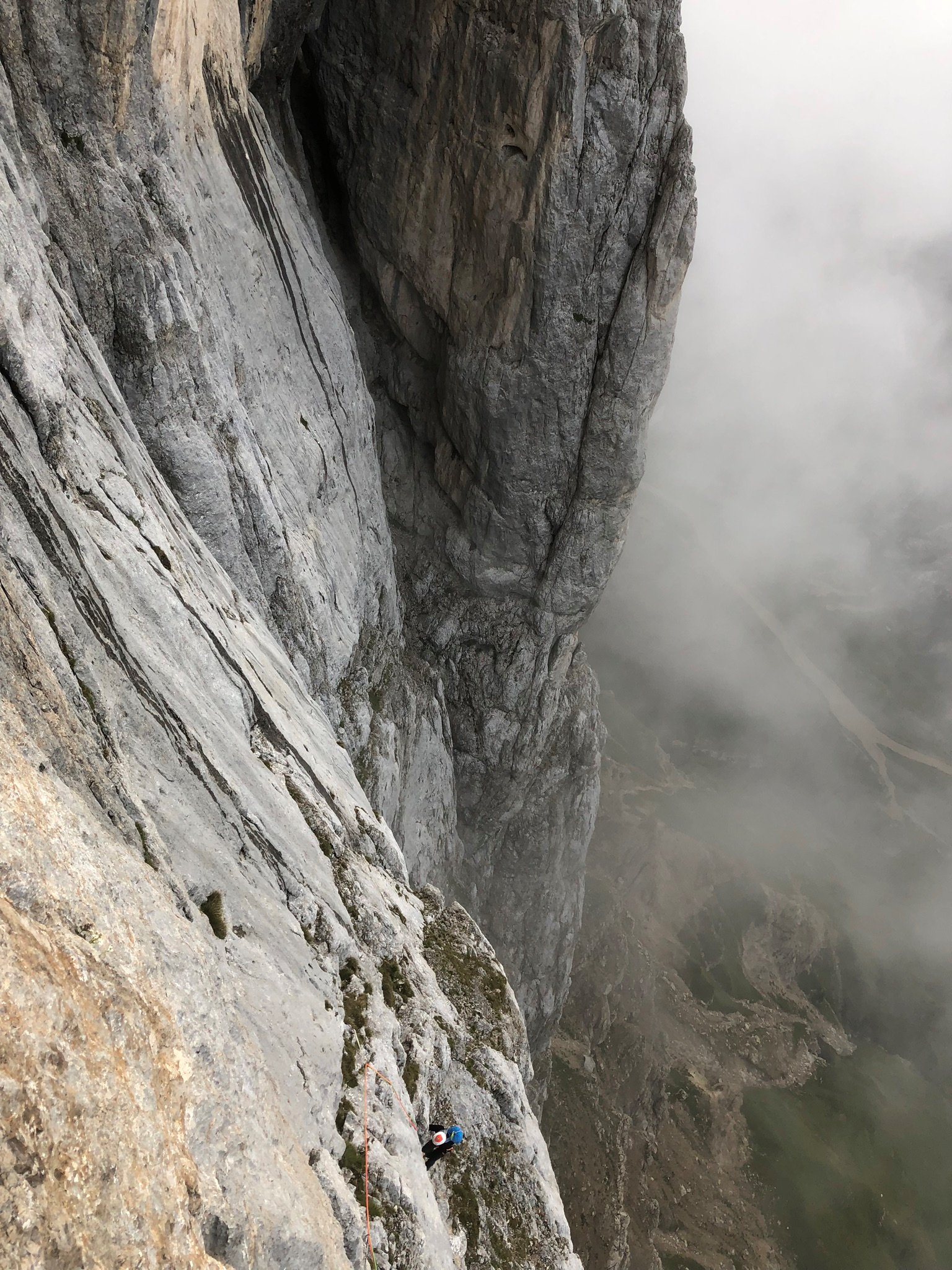 At the ledge, we quickly eat something and give our feet some rest. I must say that the second part of the route looks outreagous! Very steep compact limestone with pockets and corners. As I like it!
We start to climb simultaneously again, but after around 4/5 pitches we change to belaying each other because somewhere after a long chimney I get lost and find myself in unprotectable rock of poor quality. Fortunately I find a place to make a stance and Wouter takes over and traverses to the right, to find better rock and easier climbing. At the top of a pillar we find the right route back. A long slab awaits for us, followed by the harder steep pitches..
From here on we get a little bit more nervous, because of the worsening weather and cold hands. All the time I expect to hear the sound of thunder or feel the first raindrops, but….. nothing happens so far. I guess we are lucky..
The harder top pitches are not easy at all. We try to free them but have to pull some pegs. Maybe because of the cold hands, but also to move as quicly as possible.. Free climbing is nice, when te weather allows you to.. 😉 Afterwards I've read the following on the website of UKClimbing: Pitch 21) V+, 40m. It is possible to climb direct to the pegged crack above – a very hard variation which is initially strenuous then very bold – but the original route goes left around the rounded arete, before climbing direct right of the gully, on featured slabs, to a stance. 
I am almost sure we climbed this variation .. which might explain why it felt so much harder than the supposed grade for us up there..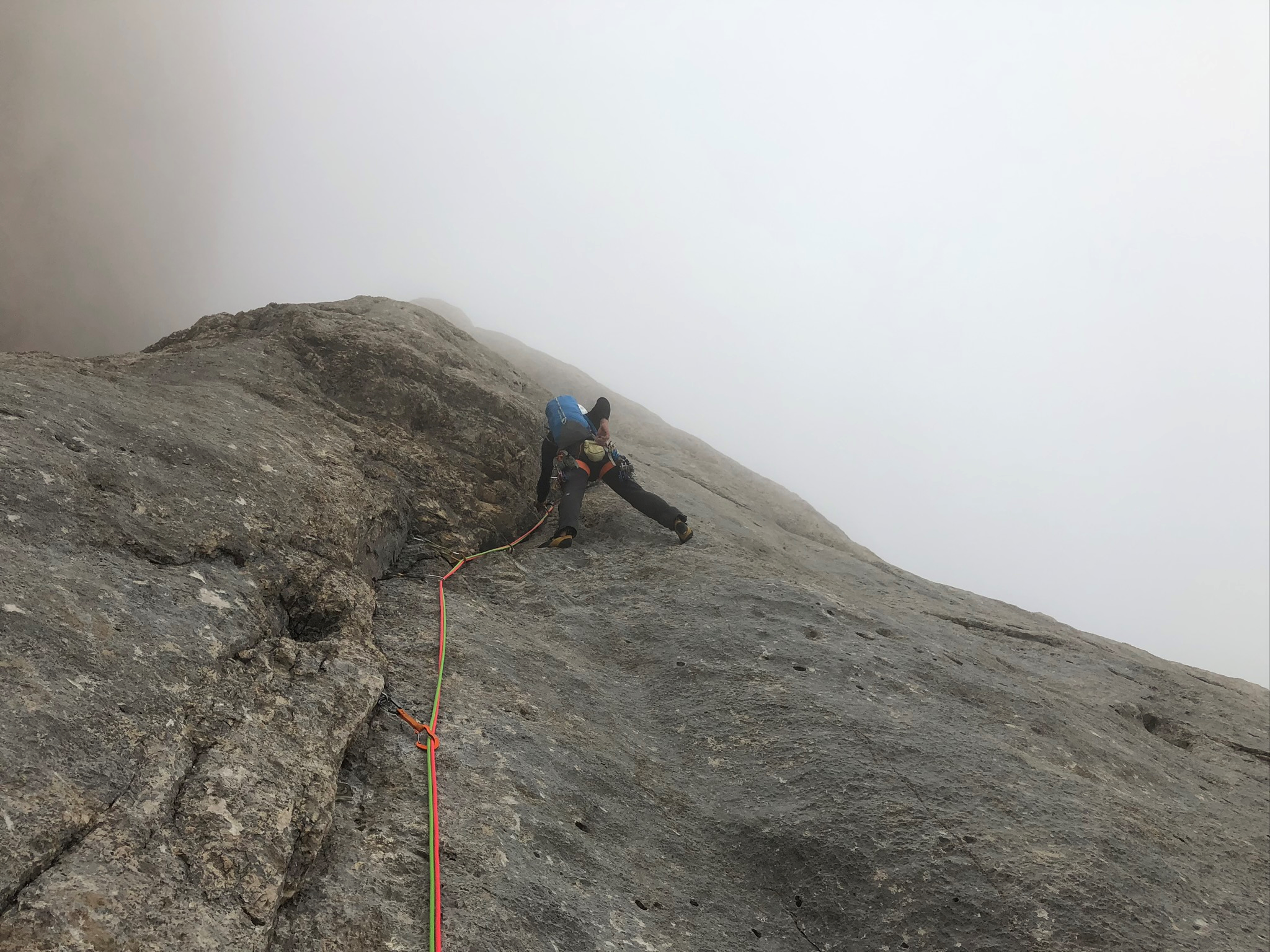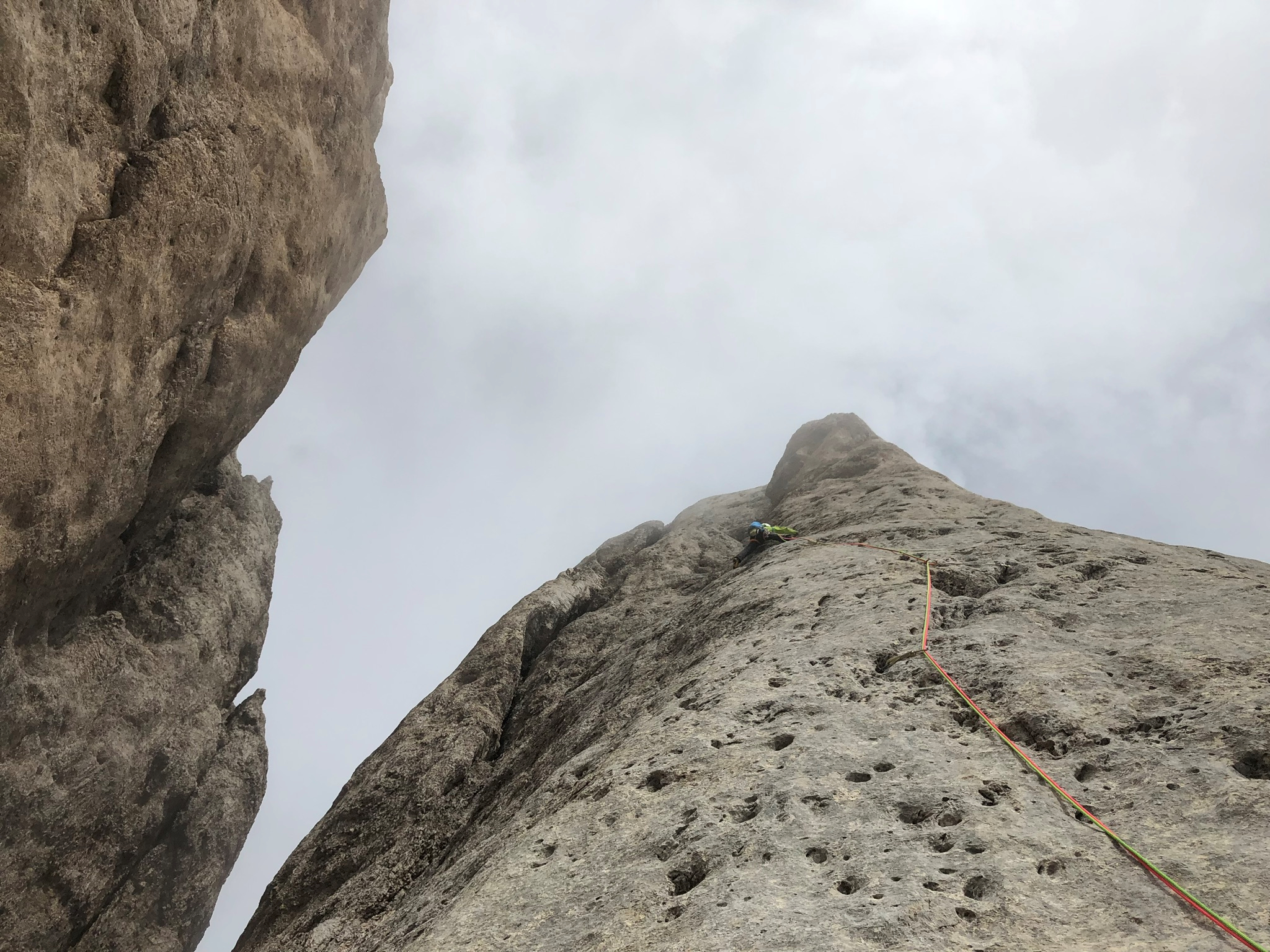 We keep moving quickly. At the belays it's really cold. We are longing for hearing the word 'belay'. Most climbers know this feeling I guess 😉
And then, suddenly, I lead the last pitch and we are on top of Punta d'Ombretta and finished the route! So much relief. After around 6,5 hours of climbing, at 1PM, Wouter and me congratulate each other for completing this amazing climb together!
We decide not to wait too long in the fog and wind, and there is no view to enjoy either..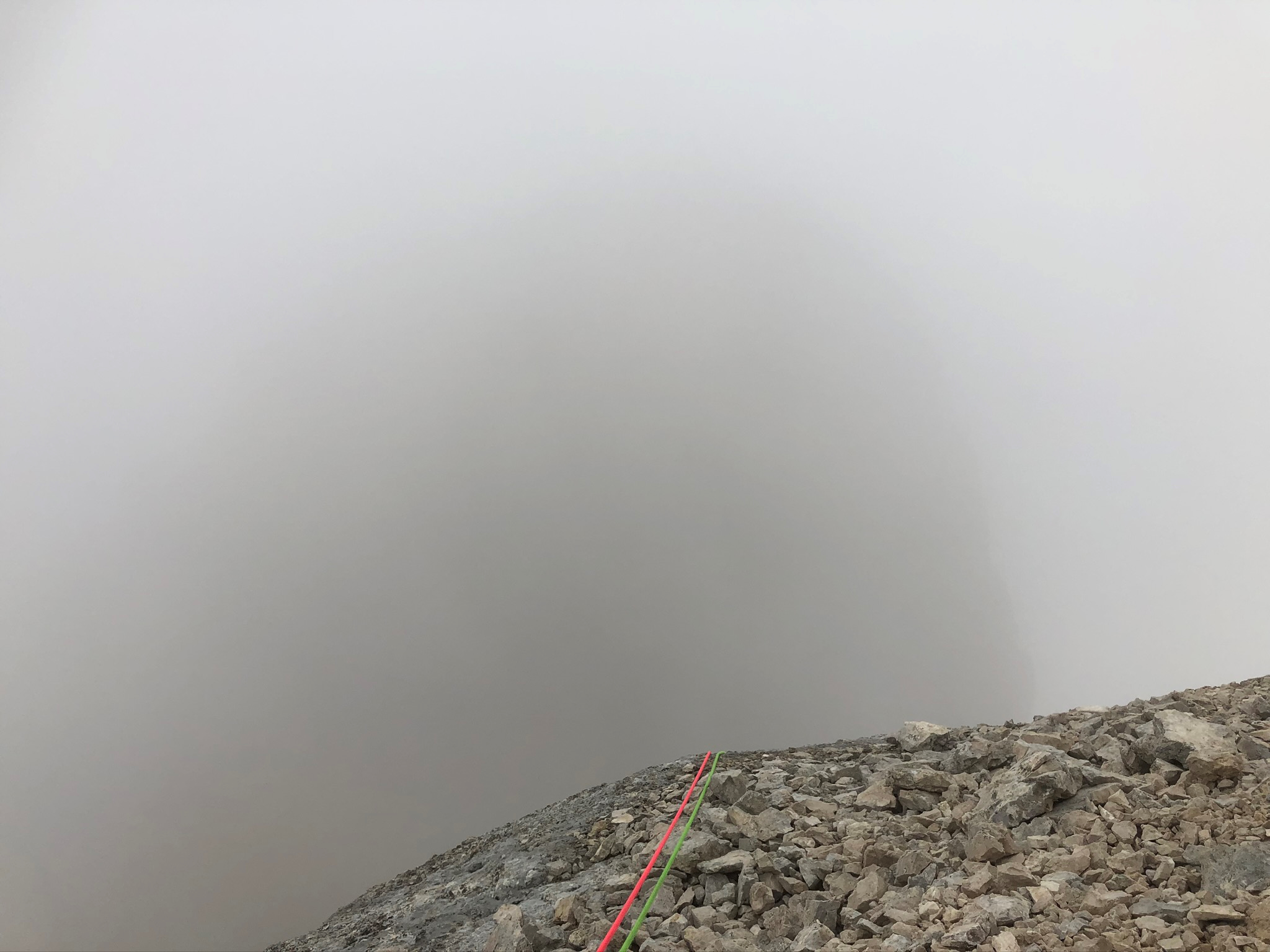 What a great feeling and relief to sit next to the cable car time at 2PM, eat and drink, and have no stress about the descent anymore. We are happy.
Wouter, thanks for a great day on this massive wall.. we are obliged to use our experience and try another route on this wall soon. With sunny belays in a t shirt please! 😉